Mesotherapy is one of the procedures used for skin biorevitalization and rejuvenation using injections.
Michel Pistor developed mesotherapy almost 70 years ago. The technique was used to reduce pain at that time.
What are the indications for mesotherapy?
Today, mesotherapy is used for:
* Wrinkle reduction
* Tightening the skin of the face or body
* Skin whitening
* Body shaping
* Fat melting.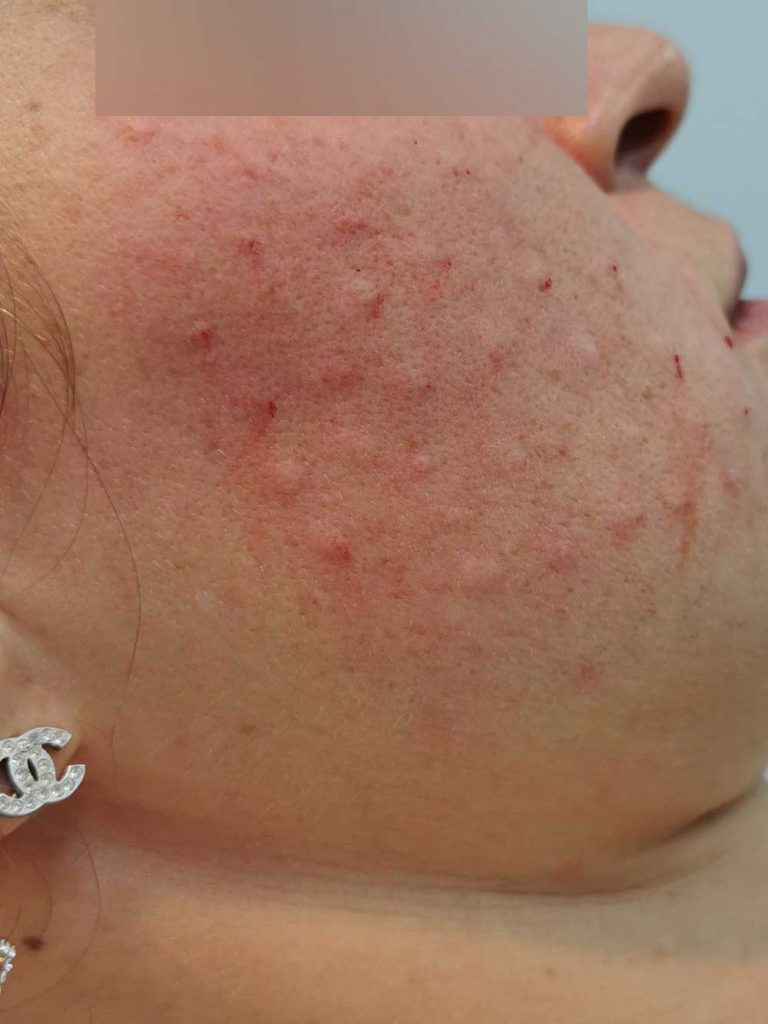 Is mesotherapy a medical procedure?
Mesotherapy was never approved by the World Health Organization.
There is no standard for substances used for rejuvenation, and that is one of the reasons why it is impossible to create official protocols or to determine whether some mesotherapies can stimulate collagen and others cannot.
Depending on the results we wish to achieve, we combine different mesotherapeutic substances:
1. Hyaluronic acid
2. Vitamin B complex
3. Vitamin C, vitamin E, vitamin K
4. Amino acids
5. Glutathione.
Each of the companies that deal with mesotherapy has their own combinations of vitamins, peptides, minerals, hyaluronic acid, which they claim are effective in rejuvenation.
Unfortunately, there are not enough scientific studies that can support this view. Several smaller studies using multivitamins for mesotherapy have shown that there is no higher production of collagen and elastin in the skin before and 3 months following 6 mesotherapies.
In contrast to this study, the combination of hyaluronic acid and amino acids in biorevitalization can significantly stimulate collagen, especially by increasing hyaluronic acid density or adding cross-linked hyaluronic acid.
Despite the fact that different substances are used in mesotherapy with different results, hyaluronic acid is the most effective means that binds water in our skin most powerfully. Only 1 g of hyaluronic acid binds 6 liters of water. One should have in mind that hyaluronic acid in its natural state is used only in mesotherapy for skin hydration because it lasts only 3 days. In order to prolong its ability to bind water for up to a year, the molecules are specially bound to each other by cross-linking, which provides a different density of gel for injection into the subcutaneous tissue.
How is mesotherapy performed?
The procedure usually consists of applying sterile cocktails using miniature injections (up to 2 millimeters deep) on every centimeter of the skin surface.
In hyaluronic acid mesotherapy, the entire surface of the treated skin is filled with small hyaluronic acid deposits. Hyaluronic acid molecules constantly bind water molecules to themselves over seven days following the treatment, and as a result, the skin gradually becomes hydrated and taut. This gives the skin extra moisture and even volume. Also, the synthesis of additional amounts of collagen and elastin is started in a completely natural way. The treatment involves a series of facial therapies, usually 3 to 4 treatments.
Depending on the material used, treatments can be performed weekly or biweekly, or once a month. Maintenance can be done once every two months or a new series may be performed after six to eight months.
Anesthetic cream is applied if the patient is sensitive. Using a very thin needle, the substance is applied to the part of the skin that contains blood vessels. If it is performed with microscopic quantities of the active substance, the technique is called Nappage, and biorevitalization involves the application of the substance in such a way that papules remain on the skin and it takes between 2 and 24 hours for them to disappear.
3 to 7 days after the treatment, the skin becomes brighter, hydrated, fresh.
The result can last from 2 to 8 weeks depending on the technique and products used.
Body shaping treatment is performed with diuretics, lipolytic agents, substances that speed up circulation.
Scalp mesotherapy which is performed in order to stimulate hair growth is effective only if minoxidil is used in the cocktail.
Using the minoxidil lotion is less painful.
Which parts of the body are treated with mesotherapy?
Mesotherapy as a rejuvenating treatment can be applied to the face, neck, décolletage, arms or thighs.
Reduction of cellulite is a very important indication for mesotherapy, and during the treatment, substances are used that melt fat, increase circulation, enable better drainage or have a diuretic effect.
An important advantage of mesotherapy is that the treatment results are immediately visible. Even skin that looks like crumpled paper, for which there seems to be no method to help it, becomes visibly more beautiful after a single treatment. The effects achieved with this treatment last up to two years.
Side effects of mesotherapy
* Bruising and swelling at the injection site
* Allergic reactions, especially to vitamin combinations
* Lipodystrophy, in body mesotherapy (very rare)
There is a great satisfaction among patients who use mesotherapy for various indications.
It may not be pathohistologically proven that it makes a difference before and after treatment, but patients certainly notice the difference.
References: