Fractionated CO2 laser is a leader when it comes to antiaging. This is the most efficient laser for skin tightening, rejuvenation and removal of scars.
This is an ablative laser of the latest technology, allowing it to remove the superficial layer of the skin to a considerable depth, but with a shorter recovery time and without the risk of complications.
The rejuvenating effect obtained with fractionated CO2 laser in just one treatment, can not be achieved with any other laser systems.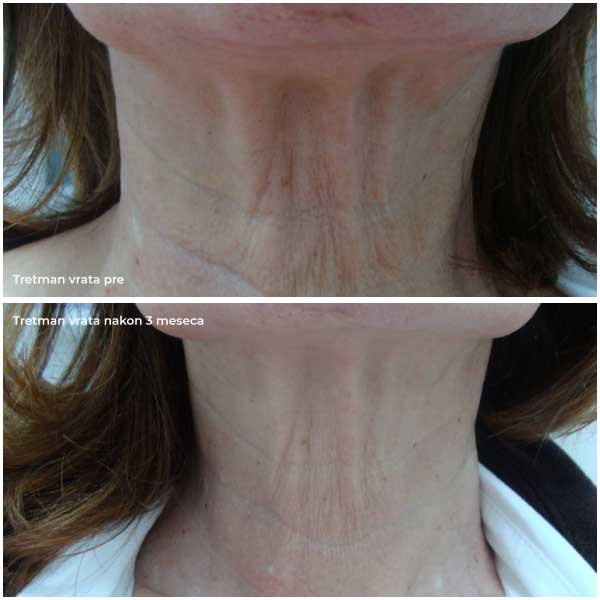 What is the operating principle of fractionated CO2 laser?
Cortex fractionated CO2 laser has an advanced fractional system, which leaves areas of untreated skin during operation, between microscopic thermal damages — treated skin. Skin regeneration starts in the areas of untreated skin. In that way, tissue damage is minimal and at increased laser depth, the recovery period after treatment is shortened to 5 to 7 days without a risk of complications.
The fractionated CO2 laser emits light with a wavelength of 10600nm, allowing the evaporation of microscopic parts of the skin, leading to heating of deep structures. Thermal damages strongly stimulate the synthesis of new collagen, its remodelling, the formation of new regenerated cells. During 60 to 90 days after treatment, the filling in of scars, wrinkles on the skin and the volume of the entire face is significantly visible.
How efficient are different laser systems?
The operating principle of a fractionated CO2 laser is very different from fractionated erbium or Fraxel laser. In a fractionated CO2 laser, the beam penetrates deeper into the tissues, and collagen stimulation is incomparably greater than when Fraxel laser is used. The fractionated Erbium laser removes only the superficial layer of the skin, while CO2 penetrates into the deeper structures and is therefore more effective. The only drawback of the fractionated CO2 laser is the recovery period, which takes from 5 to 7 days for the face, and 10 to 14 days for neck and décolletage.
Fractionated CO2 laser is the only laser system that can treat large areas of skin in case of burns, transplanted skin, large areas with stretch marks and larger regions with sagging skin.
What's possible to achieve with a fractionated CO2 laser?
Cortex fractionated CO2 laser contains a combination of 2 laser systems: Fractionated CO2 and Erbium/Yag combined to achieve skin renewal, individually tailored to each patient. It is possible to achieve:
— deep renewal and tightening of the skin of different regions due to the strong collagen stimulation
— treatment of acne scars
— treatment of various scars caused by injuries and surgical interventions
— treatment of spots, freckles, keratosis , uneven pigmentation
— removal of fine and deep wrinkles , sagging, thin skin and removal of stretch marks.
Fractionated CO2 laser deeply tightens and regenerates the skin, and the skin treatment with Erbium laser allows superficial removal of non-skin areas, faster healing, reduced duration of scabs, swelling and itching. Patients with medium-deep wrinkles in their 50s, can achieve the effects of surgical lifting by applying both modalities. For the treatment of acne scars, satisfactory results of filling the defects with collagen are visible after about 3 treatments.
How to prepare for laser treatment?
It is advised to take plenty of fluids two days before the treatment, to keep the skin as hydrated as possible, and not to apply the creams that dry out the skin. Chemical and mechanical peels should not be performed a month before the treatment. Patients who are prone to herpetic infections must begin antiviral therapy one day before the treatment. Patients on Roaccutane therapy can not undergo laser treatments. To reduce discomfort and pain, one hour before the treatment, an anaesthetic is applied to the treated area.
How long is the recovery after treatment?
Za oporavak kože lica nakon tretmana, potrebno je 5 do 7 dana, a pacijenti dobijaju detaljna upustvo o daljoj nezi kod kuće. For the recovery of facial skin after treatment, it takes 5 to 7 days, and patients receive detailed instructions on further care that should be performed at home. After the treatment, the face is red as when sunburnt, it is dry and tightened for the next 2 days, and after that slight scaling begins. The recovery time for the neck and décolletage area is about 10 to 14 days.
For faster skin recovery, reepithelialization creams are applied several times during the day. To relieve the sensation of itching, a solution of vinegar (1 teaspoon and 2 cups of water) can be used. Sun protection is necessary during 2 months after the treatment and the use of SPF 50+ cream.
How many laser treatments are needed?
The first effects are visible after skin stops scaling and the skin looks similar as after a peel. Over the next 3 months, the new collagen is synthesized, which fills in and lifts the skin, and the results become more pronounced over time. If necessary, the next treatment can be performed in 2 months.
The use of fractionated CO2 laser is contraindicated during therapy with Roaccutane and 6 months after the end of therapy. This treatment is not recommended for pregnant and breastfeeding women due to hormonal imbalance and the possibility of developing hyperpigmentation. People prone to keloids should avoid these laser treatments.
Fractionated CO2 Laser — Price
Prices for fractionated CO2 laser treatment are available in our Price list.
Dr Slađana Cvejić, specialist in skin diseases