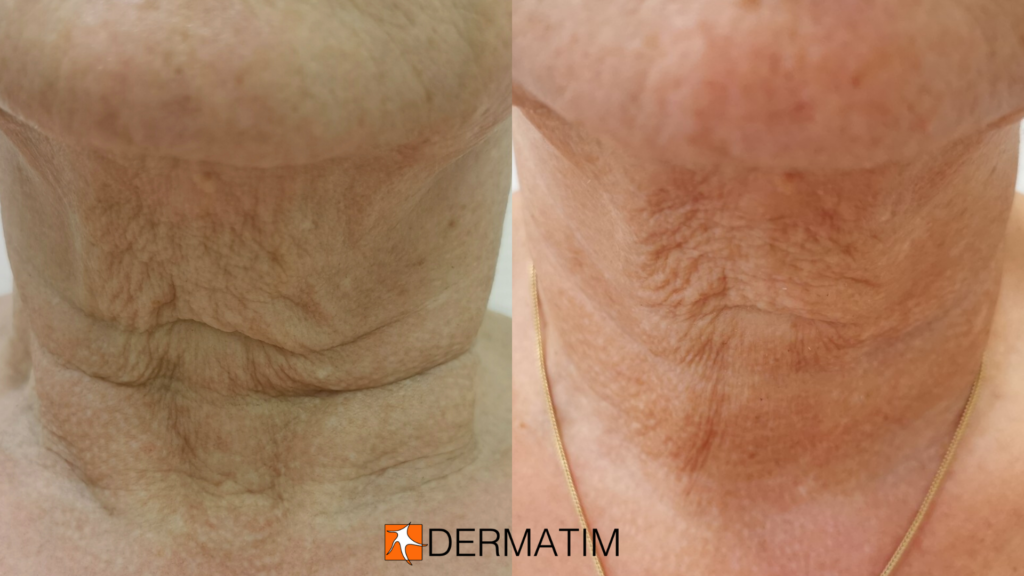 Hyaluronic acid is found in our body as an intercellular fluid. It enables the protection of the cells from free radicals, its reparation, hydration. Advances in technology, along with the fact that the hyaluronic acid molecule is common to many living beings, have enabled the development of hyaluronic acid fillers.
Since 2006, hyaluronic molecule has been enhanced by increasing the concentration of hyaluronic acid, adding synthetic material and crossing molecules, all in order to prolong half-life of hyaluronic acid when injected into the tissue.
It acts as an expander on the skin, filling the wrinkles or lifting the tissue. When injected directly into the dermis, it hydrates and stimulates collagen and elastin.
What is a Profhilo treatment?
Profhilo treatment (Hyaluronic acid mesotherapy) is a new skin rejuvenation treatment that uses pure hyaluronic acid created by NAHYCO technology. It is a technology based on heating up molecules, in order to remain stable in the skin and resist hyaluronidase (an enzyme that breaks down hyaluronic acid).
Unlike most mesotherapies, the hyaluronic acid contained in Profhilo stays under the skin for 28 days and stimulates fibroblasts to make new collagen and elastin all the time.
How is Profhilo treatment performed?
It is applied in five basic points, after which bumps like mosquito bites appear on the face during 24 hours.
In 24 hours, hyaluronic acid slips under the skin and injection traces disappear.
Smaller hyaluronic molecules strongly bind water up to 1000 times in relation to their volume and hydrate facial skin throughout the month, i.e. the region that is being treated. The large molecules in this preparation are designed as collagen stimulators.
What are the side effects?
Allergic reactions have not been reported, as this is a biocompatible molecule with no synthetic substances added.
A pre-treatment test is not required.
Swelling at the application site is possible, and may last for several days. Possibly a bruise may appear at the injection site.
If the doctor performing the treatment is not properly trained, occlusion of the blood vessel may occur.
What are the contraindications?
It is contraindicated in case a viral or bacterial infection is present in the region that needs to be treated. Use of blood thinners.
Jalupro
Jalupro is one of the few bio-revitalizing agents whose effect on collagen stimulation was pathohistologically confirmed.
It consists of hyaluronic molecules and powdered amino acids that dissolve in it.
It is injected into the dermis and causes instant hydration that can last up to 2 months from application.
3 to 4 treatments per year are recommended.
Side effects are extremely rare and consist of short-term redness, swelling or warmth.