Renuvion is a radiofrequency device that uses strong radiofrequency and helium-based plasma in deep tissues under the skin's surface.
It is a new technology that enables tissue contraction in one treatment and can completely replace surgical interventions of lifting and reduction of excess skin, without scaring.
Radiofrequency devices, compared to all other devices used in aesthetic medicine, produce the greatest stimulation on loose and sagging skin and the greatest tissue contraction.
The previous technology was based on boosting collagen production and improving the quality of the skin, but the possibility of skin lifting after a series of external treatments was about 15% to 20%.
Advances in this technology were made with the first introduction of high-frequency current under the skin. Attiva endodermal radiofrequency lifting represents a medical procedure where endodermal microcannula with radiofrequency at the tip is introduced to the skin, placing high temperatures without damaging the skin or subcutaneous tissue and strong stimulation of new collagen and elastin production resulting in skin contractions.
Attiva is a radiofrequency lifting that has been performed in our clinic since 2018 with great success and patient satisfaction. This procedure is ideal for patients who do not want to be exposed to more aggressive methods, as well as for patients who do not want to use a larger amounts of hyaluronic fillers.
Renuvion treatment for loose and sagging skin
Renuvion is a step ahead of Attiva, and the results are similar to a surgical mini facelift after just one treatment.
Radiofrequency in contact with a gas creates plasma, enabling almost simultaneous heating and cooling of the tissue, in a way that heating creates a strong contraction of the tissue, and instantaneous cooling does not allow for the skin to overheat.
Lifting of the skin and subcutaneous tissue are visible from the first session and the end result can be observed a few weeks to 6 months after the treatment.
The entire procedure is performed under local anaesthesia. If necessary, minor liposuction can be done immediately before Renuvion treatment. Also, after every liposuction, Renuvion treatment should be performed in order to remove excess skin.
A probe that emits radiofrequency and helium plasma is placed into an incision between 3 and 4 mm long. The reduction of excess skin and subcutaneous tissue is immediately visible, without damaging the surface of the skin or surrounding tissue and without scarring.
Immediately after the procedure, the treated region can be slightly sensitive, but it passes after the intake of one pain reliever.
Depending on the area being treated, the procedure lasts between 30 and 60 minutes.
Recovery period is two weeks. Swelling and bruising are a normal part of the recovery from the procedure. Mild sensitivity to pressure is present for 2 to 3 weeks after the treatment. It is necessary to wear a compression garment on the treated region for 7 days. Patients need to rest for the first three days and then they can fully return to their duties, only without sports activities.
In just one treatment, more than 50% of skin contractions are achieved and the results are as long-lasting as the results of surgical lifting.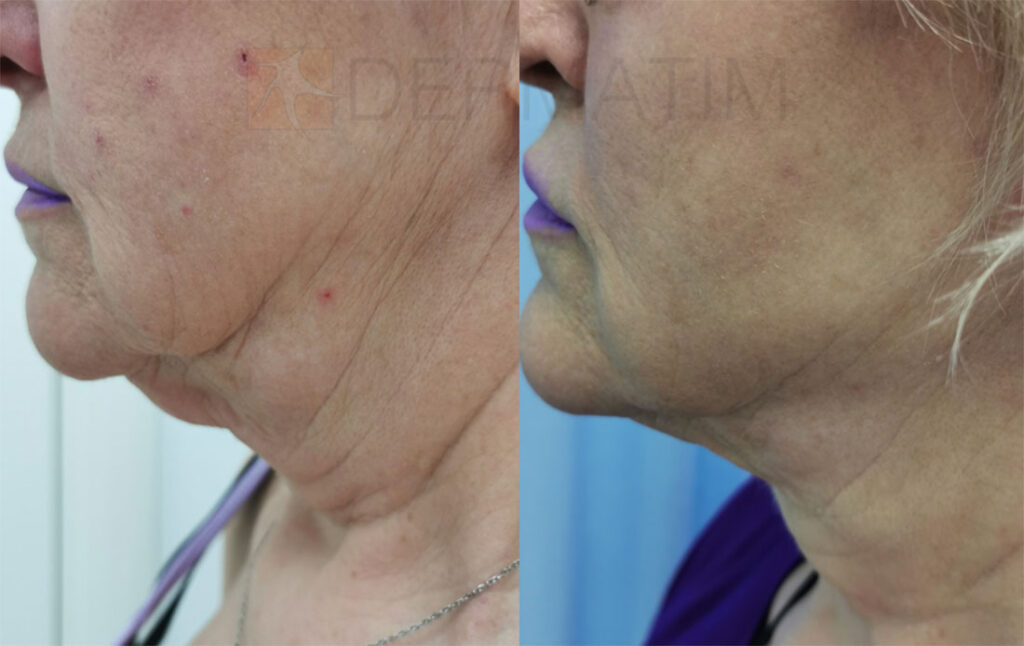 Regions that can be treated are:
Chin
Upper arms
Inner thigh
Stomach
Knees
Excess skin on the back
The procedure must be performed by an experienced and adequately trained surgeon so that there is no possibility of complications from retention of larger amounts of gas under the skin. Helium gas is completely absorbed from the tissue and is not harmful to our body. It is used in laparoscopy operations, in people who do not metabolize carbon dioxide very well or in the recovery from heart and lung damage, so it is completely safe.