Hyaluronic acid for face is often used for full facelift, i.e.to increase the volume of the whole face and correct wrinkles. This treatment does not involve surgical procedures, but hyaluronic acid treatments –with the use of hyaluronic acid fillers, a result similar to surgical procedures can be achieved completely safe and without a period of recovery.
Very often, the surgical procedure of increasing the volume of the face may cause a person to lose his or her natural appearance without producing the desired and planned result. With timely use of hyaluronic acid fillers, the tone of facial skin and muscles is maintained throughout life, and thus the need for surgical procedures is significantly reduced or delayed.
Characteristics of facial skin aging
One of the first and main characteristics of facial skin aging is the loss of fat pads that support the skin and muscles of the face. This change does not depend on variation in weight and leads to the appearance of a tired and exhausted facial expression as well as to visible excess skin.
Another characteristic of aging is thinning of the skin, which can be compensated by thinner molecules of hyaluronic acid without adding the volume.
The third characteristic of aging is thinning of muscles and changing the shape of the bone tissue, which is difficult to compensate by any method.
Hyaluronic acid
Initially, hyaluronic acid was exclusively a substance that was used to fill wrinkles, especially the so-called nasolabial folds, i.e. creases in the skin that extend from the edge of the nose to the corners of the mouth. The production of different sizes of hyaluronic acid molecules, as well as variations in their density, make it possible to compensate for the loss of facial volume. Filling wrinkles and volume restoration provide a long-lasting and natural look after the treatment. Patients' fear of having an unnatural look can be easily eliminated by applying fillers in moderation only in areas where the tissue has naturally lost volume. In order to fully understand the benefits of this procedure, it should be noted that hyaluronic acid is a polysaccharide found naturally in our skin. This fact allows the face to look completely natural and soft after the procedure, and the ability of hyaluronic acid to strongly bind water to the skin provides additional elasticity and hydration to the tissues covered by the treatment.
Hyaluronic acid for face – Full facelift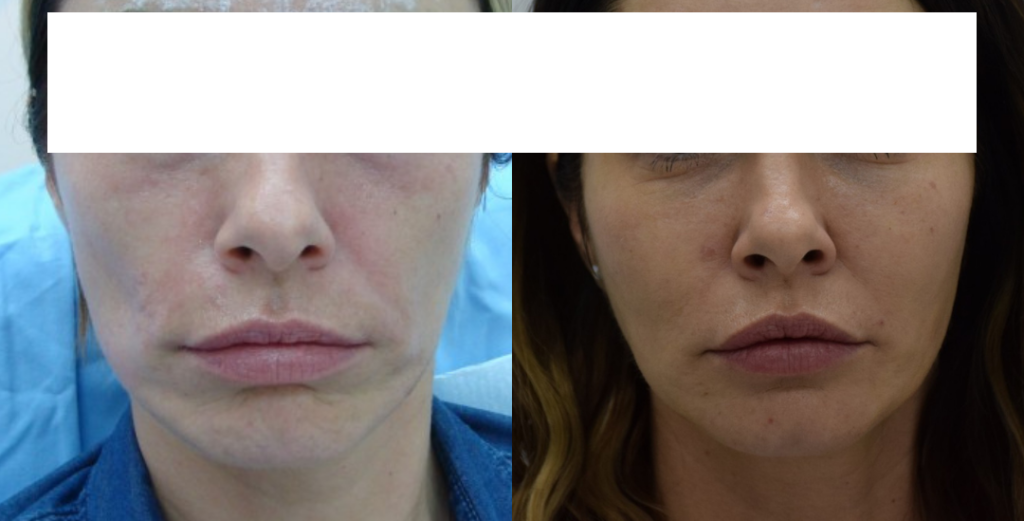 Various application techniques can be used during treatment. Initially, hyaluronic acid was applied exclusively with a needle, taking into account the anatomical characteristics of the face and following the passageways of large blood vessels. Cannula, a blunt needle with an opening at its end through which the gel is dispensed, has been increasingly used in recent years. The rounded tip of the cannula prevents tearing blood vessels, thus the application of hyaluronic acid has become a procedure one can undergo during lunch break and return to work without bruises. Certain parts of the face, such as the area in front of the ears or the mandibular bone, are almost impossible to treat without a cannula. The cannula allows eyebrows to be raised, cheeks to be filled, cheekbones or area under the corners of the lips to be raised from a single point of entry. This approach allows performing a complete hyaluronic acid facelift. Certain points on the face cannot be treated using a cannula only, hence it is necessary to combine it with the application of a classic needle.
MD codes or Medical Codes have been introduced in the last few years as a method of applying hyaluronic acid according to a specific facelift plan. The particularly popular 8-point facelift is a technique involving specific depth of hyaluronic acid filler application and precisely defined areas of the face with the greatest facelifting capacity. All these points have been used for a decade, but Dr Mauricio De Maio combined them into a protocol that makes it easier for beginners to create an adequate face plan. With the introduction of MD codes, facial analysis and facial hyaluronic acid found their application not only in wrinkle reduction and facelifting treatments, but it has also become possible to convey different emotional messages:
– less sad
– less angry
– less tired
– more seductive.
Each area of the face has several codes that doctors are guided by when applying hyaluronic fillers. The jawline or jawline angle emphasis, which has been very popular in the last two years, is a procedure that has been performed for years as an integral part of facial harmony. The modern age has brought about a special aspect of emphasised jawline, which has its own 3 MD codes. It is important to remember that the goal is to achieve facial harmony, hence these three points require work on other parts of the face as well.
Hyaluronic acid cannot replace surgical rejuvenation entirely, just as a surgical facelift is often incomplete without compensating the volume of tissue with hyaluronic acid. Hyaluronic acid fillers have been a wise alternative to surgical rejuvenation for several years, and can also be applied in addition to or as a corrective treatment following such procedure.
You can find out more about hyaluronic acid fillers by following the link or watching the video:
Dr Svetlana Djurišić, specialist in skin diseases