Sclerotherapy is a procedure that involves removal of dilated capillaries, venulesby injecting the active substance directly into the blood vessel. It has been used since 1930, and only the sclerosing agents(sclerosants) have changed over time.
What types of sclerosants are available?
The most commonly used sclerosing solution is hypertonic saline. At a saline concentration of 23%, it is very effective and safe, but the pain induced by injections of hypertonic saline is extremely intense.
Polidocanol (Aethoxysklerol) and Sodium tetradecyl sulfateare sclerosant detergents. They are used in the form of foam. They can very rarely cause an allergic reaction and are very effective. They do not induce pain following the application.
How is sclerotherapy for capillaries performed?
Sclerotherapy for capillaries, venules and veins is performed by injecting the foam using a very thin needle into the blood vessel. Foam is effective at a distance of 5 cm. If the blood vessel is longer, the procedure is repeated every 5 cm. The blood vessel completely disappears for a few minutes when the treatment is performed properly. After the procedure, the capillaries are red and slightly swollen. In the next month, resorption of coagulin that is formed in the capillary takes place, and thus resorption of capillaries. It is necessary to wear compression stockings 7 to 14 days after the procedure, depending on the size of the capillaries that have been treated.
How to prepare for the treatment?
After examining the dilated blood vessels using a venoscope, a Doppler ultrasound examination of the lower extremities is sometimes advised. Following the examination of the venous and arterial plexus, the sclerotherapy can begin. In order for the procedure to be more successful, it is desirable not to take blood thinners at least 3 days before the treatment as well as three days after the treatment.
What are the contraindications (conditions in which the treatment should not be done)?
* History of deep vein thrombosis
* Pacemaker
* Pregnancy
* Taking anticoagulants
* Carcinomas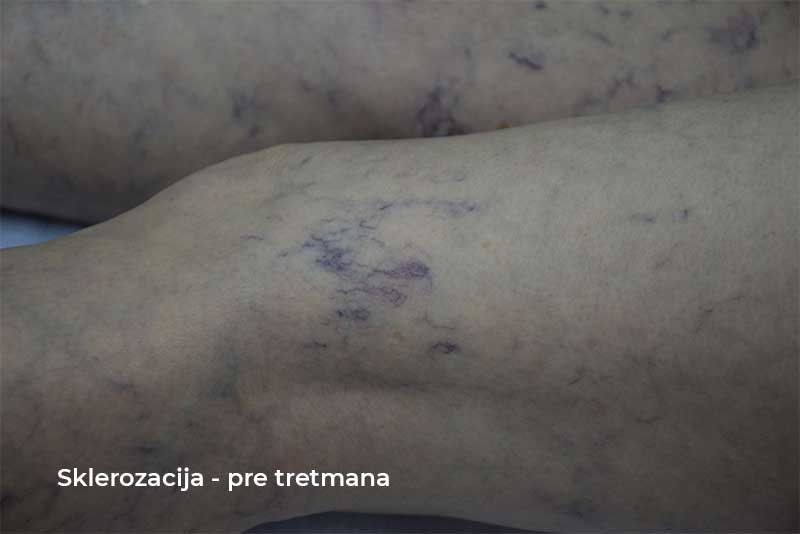 What are the complications after the treatment?
* Brown discoloration of the skin at the site of dilated capillaries. It lasts 1 to 6 months. It can be removed by a Q-switch laser.
* Occurrence of compensatory capillaries in the vicinity of the closed capillary. It happens very rarely. It can disappear within 3 to 6 months, however, if it doesn't, it can be mitigated by a laser, but not removed.
* Swelling of the leg and pain are possible following the sclerotherapy of veins.
How many treatments are required?
1 to 3 treatments are required.
Capillaries closed in this way are permanently removed.
Although this is a 70-year-old method, it has a statistically higher success rate than laser removal of dilated capillaries.